Web designer with a strong graphic design background
Bit of History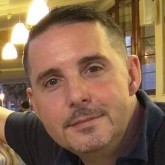 I have a degree in Information Technology (IT) by the University of Malaga (Spain). My first job was working as an industrial designer creating 3D phones and payphones in Alcatel (Malaga) for Telefonica for 8 years. Then I became a graphic designer, creating magazines, logos, banners, flyers, cards, etc, for Skål International in Torremolinos (Malaga) for 8 years. In 2004 I moved to London, where, first I became a front-end web designer and later a back-end web developer, creating full websites including the graphics, front-end and back-end, working for companies like IT Soho, Vonsung Visual, Incisive Media, Mercer Design and Crystal Interactive. Currently I am freelancing.
I am a Web developer and a Graphic designer
I am a full stack web developer, that is, I can create complete websites from scratch including the graphics, the front end and the back end. I love programming but also anything related with graphic design so I consider myself a web designer and developer with a strong graphic design background. My last role involved creating Web Apps for the event industry whereby I have specialised in creating responsive code for different devices. I am passionate about my work and thrive when working on challenging projects in where I have to learn and research solutions. I am an eager self-taught at heart.
Looking for work as a freelancer or part time
I am a web developer currently working as a freelancer. My main expertise is front end development with a strong graphic design background and medium exposure to back end development. I am very focused and driven by SEO best practices, Web Performance and Responsive Web Design. I produce a clean, organised and standard hand-coding. I have passion for my job and I am continuously learning new web technologies and trends. I am looking for freelance, part time or contract positions, working remotely or mixed with on site. I would also consider permanent roles if the job specification were a good fit.
Academic information
Degree: Information Technology (University of Malaga, Spain) Grade/Mark: Notable, 1984 – 1989
End of Degree Course Project: Conic Perspective for AutoCad (in AutoLisp Language) Grade/Mark: Honors Graduate, 1990
Professional experience
FREELANCE London: Web Developer (2014 May)
CRYSTAL INTERACTIVE London: Web App Designer (2013 May / 1 year)
MERCER DESIGN London: Web Designer and Developer (2011 March / 2 years)
FREELANCE London: Web Designer working from home or part time (2009 October / 1.5 years)
INCISIVE MEDIA London: Part of the Web Design Team (2008 February / 2 years)
VONSUNG VISUAL London: Corporate Identity & Web Designer (2006 October / 1.5 years)
IT SOHO London: Corporate Identity & Web Designer (2006 February / 3 months)
SKÅL INTERNATIONAL Spain: Magazines, Corporate Identity & Web Designer (1998 February / 8 years)
ALCATEL Spain: Industrial Designer of Telephones, Blue prints, Mock-ups, Prototypes, Patents, 3D Animation (1989 January / 8 years)
IT TEACHER Spain: Generic computing, MSDOS, Windows and PC Admin, DBASE III (1988 Apr. / 1 year)